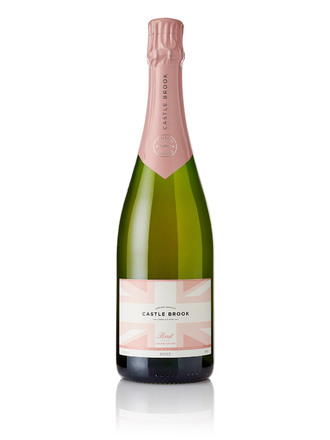 Vineyard Information
Castle Brook Vineyard is run by the Chinn family, who are best known for producing Wye Valley Asparagus at Cobrey Farms in Herefordshire.

Their Castle Brook Sparkling Rosé has been made with Champagne grapes; Pinot Noir, Pinot Meunier, and Chardonnay to produce the highest quality English sparkling wine.

Tucked away in the meandering Wye Valley of South Herefordshire, Castlebrook was planted in 2004, on the site of an ancient Roman vineyard. Lying on a steep south-facing slope, in the rain shadow of the Black Mountains, but with plenty of warm westerly air, the area is renowned for its fruit and vegetable production, and has the second largest area of grape vines in the UK.

21 different clones are grown of the three Champagne grape varieties - Pinot Noir, Pinot Meunier, and Chardonnay - on three different rootstocks, which allows them to create excellent blends.

In the weeks leading up to harvest the grapes are monitored for ripeness, taste, acid and sugar levels, and hand-picked as whole bunches before being gently pressed. 100% malolactic fermentation is used with at least six months maturation in cuvee, and a very generous four plus years in secondary fermentation.

This attention to detail, along with a commitment to only producing the best English quality sparkling wine, has resulted in gaining multiple awards, since the first vintage in 2006.

On release the of the first vintage in 2006, they picked up three silver medals, including one at the Decanter World Wine Awards. In 2014 we were awarded Best Sparkling Wine as well as overall Wine Of The Year at the South West Vineyards association.

Castle Brook work with Ridgeview Estate in Sussex, who are regarded as one of the best sparkling wine makers in the UK. The Roberts family are dedicated solely to the production of the highest quality sparkling wine, from traditional Champagne varieties and methods, and fully understand how to get the most out of the fabulous English grapes.

The Castle Brook name is derived from the farmhouse that sits at the bottom of the vineyard. This ancient building, mentioned in the 1086 Domesday book as a coaching inn, is named after both the ruins of Penyard Castle which overlooks the valley, and the Coughton Brook which runs through it.
Colour
Sparkling
Origin
England
Region
Sparkling
ABV
12.00%
Drink From
2020
Drink To
2023
Special occasion