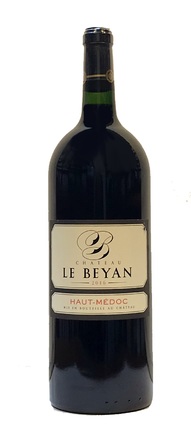 Stock Description
Magnums 150cl
Tasting Notes
From the Excellent 2016 vintage

A beautiful dark hue, with ripe blackcurrant leaf on the nose and dark ripe blackcurrant fruit on palate with lovely supple tannins. This bold fleshy wine is not complex but has very good weight, lovely wood spice notes.
Vineyard Information
Ch Le Beyan has been purchased by Chateau Monbrison, and the wine is now made at their Margaux winery. A Merlot/ Cabernet Sauvignon blend grown on gravel over clay from vineyards in the commune of Arcins, Haut Medoc, just to the north of Margaux. The 2016 vintage is the first vintage of the new winemaking team and is a great success.

Monbrison have long produced a cuvee named 'Haut Medoc de Monbrison', and have recently listed Arcins as a source for this wine, it seems likely that Ch Le Beyan will be incorporated into this more established name in due course. Enjoy this sip of history from a great vintage whilst you can!
Colour
Red
Origin
France
Region
Bordeaux Claret
ABV
13.00%
Drink From
2020
Drink To
2024
Everyday drinking, Special occasion, Wine for the Cellar