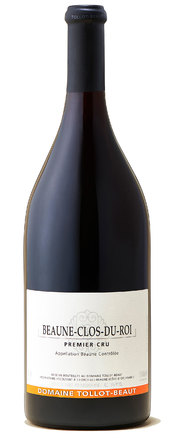 Stock Description
In Bond ex vat
Vintage Description
Allen Meadows, Burghound;
Nathalie Tollot described 2018 as one that 'gave us both quantity and quality. We began picking on the 28th of August and continued through to the 6th of September. Last year we just weren't prepared for the yields despite having dropped an impressive amount of fruit via a green harvest. This year however we employed more pickers so that we could rapidly bring in another abundant harvest. We were helped considerably though not only because we had more harvesters but also because the harvest conditions were ideal, and the fruit was very clean so it could be processed quickly. Potential alcohols came in between 13.2 and 14.5% and we chose to vinify very softly as it was clear from the beginning that the extractions would happen almost by themselves. We did have a few fermentation stoppages though thankfully no technical deviations resulted. As to the wines, they are definitely ripe but in contrast to say 2003, the terroir differences are readily apparent.'

Tollot noted that the 2018s were bottled in January and February 2020. Note too that the Tollot wines are deliberately bottled with slightly higher levels of CO2 so decanting the wines is always a good idea. I have made this observation before but this domaine remains one of the finest sources of top value Burgundy and the quality achieved here in 2018 will only enhance that reputation.
Tasting Notes
Great colour. Very fine, pure and delicate aroma with hints of raspberry. Very restrained and elegant. Very fine, lacy tannins. Gorgeous texture. Very moreish.

Allen Meadows, Burghound 90/100
This is also notably ripe with liqueur-like aromas of plum, dark currant and violet scents leading to more refined but less concentrated and powerful medium weight flavors that exhibit an appealing touch of salinity on the less structured but nicely persistent, dusty and complex finish. Good stuff that should drink well on the younger side if desired. 90/2025+

Neal Martin 89-91/100
'The 2018 Beaune Clos de Roi 1er Cru has a well-defined dark cherry and crushed strawberry bouquet, displaying moderate complexity but bright and vivid. The palate is medium-bodied with sappy red fruit, fine acidity and good depth, if just missing a little length at the moment. This has less alcohol than the other cuvées, at 13 degrees' Vinous.com
Vineyard Information
Domaine Tollot-Beaut has sat modestly in the centre of Chorey-Lès-Beaune since it was set up by the Tollot family in the 1930s. Nathalie Tollot is the most welcoming of hosts and her wines are among the most consistent in Burgundy.The wines are beautifully open in style with rich, generous fruit flavours and judicious use of new oak. They are poised wines with great depth and elegance.
Colour
Red
Origin
France
Region
Burgundy Red
ABV
13.00%
Drink From
2022
Drink To
2035
Special occasion, Fine Wine, Wine for the Cellar