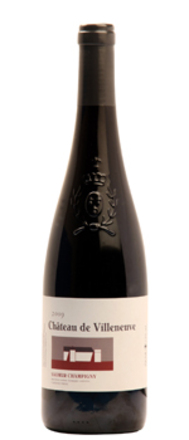 Tasting Notes
A vibrant Cabernet Franc with bright varietal notes, bursting with ripe fruit and acidity.
Vineyard Information
A reference point for top-level Saumur Champigny, Chateau de Villeneuve has been continuously producing wine since 1577, with elevage taking place in the labyrinth of tunnels that wind underneath the spectacular romanesque church, castle, and walled vineyard that define this historic property. Jean-Pierre Chevallier is a 4th generation winegrower. He grew up a few miles down the river from the winery in the village Dampierre-sur-Loire, where his parents were highly regarded winegrowers. Jean-Pierre's parents purchased Chateau de Villeneuve in 1969, when he was 14 years old, moving the family into the domain and making it the base of their wine-growing efforts.

In total, Chateau de Villeneuve's holdings cover 60 ares of vineyards that sit on a limestone plateau overlooking the Loire above the village of Souzay. This is the most prime section of the appellation. Farming and winemaking has been certified organic since 2011. Jean-Pierre is allergic to sulfites and for this reason SO2 use is very limited (less than 20g/L at time of release).

Jean-Pierre is training his two daughters (both in their twenties now) to eventually take over all operations - This is a family producer with a future as bright as its storied past.

Terrific exposure, combined with lowest in the appellation yields and natural farming, make for unusually intense fruit material in a basic Samur Champigny AOC wine - For this reason Jean-Pierre does very little in the way of remontage (remontage takes place only three times in total!), a situation that further distinguishes this wine by keeping the tannins unusually silky
This bottling makes up about 80% of the winery's production and is a well-known by-the-glass benchmark in serious restaurants throughout France.
Colour
Red
Origin
France
Region
Loire Red
ABV
13.00%
Drink From
2020
Drink To
2025
Everyday drinking, Organic