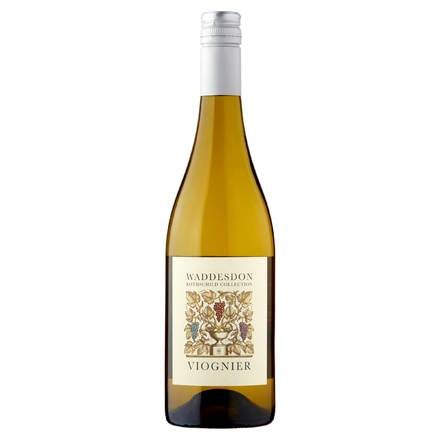 Tasting Notes
Harvested at night to preserve the integrity of the grape skin and help retain natural purity of aroma. This superb Viognier shows great typicity with notes of honeysuckle, citrus peel, vanilla, tangerine and honey. Rather than being fermented, bottled and released in a frantic fashion; this Viognier is rested for 8 months on the lees which provides great depth and texture. The palate has freshness, weight and richness in equal measure. A lovely clean floral finish rounds of the experience.
Vineyard Information
In terms of quality for every pound spent, there are few wines that deliver quite as well as the Rothschild Collection varietal range.  

Lord Jacob Rothschild and the team at Waddesdon Manor, have created an own label range, The Rothschild Collection, to bring great value drinking wines to the table by utilising their extensive wine making contacts in France.  To source the fruit they have developed strong relationships with local growers in the Languedoc with an emphasis on quality and varietal definition that would complement the Rothschild portfolio. "the finest quality 'house wines' we have ever released"  Waddesdon Manor. 
Colour
White
Origin
France
Region
South West France White
ABV
13.00%
Drink From
Drink To
Everyday drinking