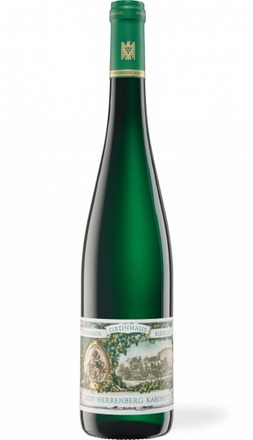 Vintage Description
Joel B. Payne, Vinous.com
Since the difficult 2006 vintage that this estate managed well, von Schubert has slowly re-emerged from the ashes. The phoenix has perhaps not yet risen to the heights of the '80s and early '90s, when this was one of the finest estates in Germany, but the direction is clearly discernible, with 2009 being the finest collection I have tasted here since the late '90s. Dr. Carl von Schubert and his winemaker Stefan Kraml bottled what may be the finest kabinett of the vintage, as well as an auslese that has few peers.
Tasting Notes
A delicate style that has been fermented dry. This is ripe, and characterful with honeyed grapefruit, lime and honeysuckle. Not grand or overtly intense, but satisfyingly lithe.
Vineyard Information
Located on steep, south-facing slopes two kilometres from where the river Ruwer meets the Mosel, the estate of Maximin Grünhaus has a history of viticulture that dates back to Roman times. It takes its name from the Abbey of Saint Maximin, a Benedictine monastery which owned the land from the 7th to the 18th century. Passing into French administration under Napoleon and then eventually to the von Schubert family in the late 19th century, the estate is now overseen by sixth-generation family member Maximin Von Schubert, who took over from his father Carl Von Schubert in 2014.

A Riesling specialist, the property is divided into three separate, but contiguous vineyards, each with their distinct microclimate, gradients and soils: the Abtsberg, the Herrenberg, and the Bruderberg. Winemaker Stefan Kraml, who has been with the estate since 2004, focuses on expressing the character of the Riesling from each plot.

The 19-hectare Herrenberg vineyard lies near the Grüneberg forest and is traditionally viewed as a cooler site than neighbouring Abtsberg. The Rieslings produced from the red Devonian slate soils here were once regarded as second to those from Abtsberg but, with the shifting climate in recent years, have achieved distinction in their own right and will age beautifully over decades. The dry Grosses Gewächs 'Herrenberg' Riesling is defined by a mineral salinity with hints of wet slate, lemon zest and dried herbs. The naturally sweet and beautifully balanced Riesling Kabinett 'Herrenberg' is juicy and complex on the palate with a pronounced fruit core.
Colour
White
Origin
Germany
Region
Germany White
ABV
11.50%
Drink From
2017
Drink To
2029
Special occasion, Fine Wine