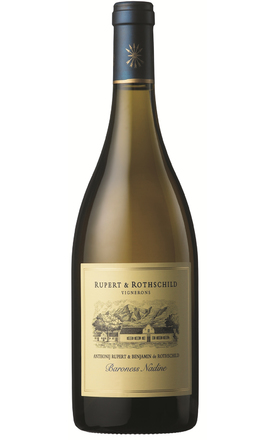 Tasting Notes
This vintage offers ripe tropical fruits, fresh citrus notes, roasted hazelnut, macadamia, and citrus blossom . This is a wonderful wine with a core of ripe tropical fruit all held together by a luxurious yet well- judged streak of rich oak. Baroness Nadine is crafted in a different style compared to a few years back - the style is much more in keeping with fashion, and subsequently the use of new French oak has been toned down. Baroness Nadine 2019 is considered the best vintage produced at Rupert and Rothschild Vignerons, balancing racy acidity and creamy well balanced oak.
Vineyard Information
Baroness Nadine is the only white wine produced at Rupert and Rothschild Vignerons in South Africa. An intricate vinification process results in a rich and complex wine. Baroness Nadine provides a creamy southern Burgundian style at just a fraction of the price of its French counterparts. This ever improving wine now ranks among the finest whites' in the Rothschild portfolio.
Colour
White
Origin
South Africa
Region
South Africa White
ABV
13.50%
Drink From
Drink To
Special occasion, Fine Wine, Wine for the Cellar