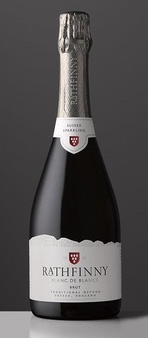 Vintage Description
Budburst was timely, though it was very wet prior to flowering which, as a result, was slightly later than usual. However, there was a successful fruit set, despite July and the early part of August coming in cooler than normal. The second half of August brightened up with some very warm days, with this dry weather continuing throughout September until the end of the season, picked in the latter part of October.
Tasting Notes
Pale honeysuckle in colour, with a sumptuous nose of lemon curd over buttered croissant, delicate bubbles accented by fresh grapefruit on the palate, and a generous peachy finish. 90% Chardonnay, 8% Pinot Noir, 2% Pinot Meunier, 36 months Lees ageing 4g/l
Vineyard Information
Rathfinny Estate in East Sussex was founded in 2010 by husband and wife, Mark and Sarah Driver. Once a working arable farm, the first vines were planted in 2012 and today Rathfinny comprises over 200 acres of predominantly Pinot Noir, Chardonnay and Pinot Meunier. Rathfinny Estate is located in the South Downs National Park, an area of outstanding natural beauty in Southern England. It occupies the main part of Cradle Valley, on a south-facing slope close to the iconic Cuckmere Valley, just three miles from the sea and the famous Seven Sisters cliffs, about a half a mile south of Alfriston village.

As well as being a stunning site, the Rathfinny vineyard is perfect for growing sparkling wine grapes: The light, thin, clay loam soils over chalk are free draining and very similar to the Champagne region of France. The chalk provides a ready source of water for the vines during the drier summer months. The warm semi-continental climate and long summer days ensure perfect ripening, and the proximity to the sea helps mitigate frost risk, a major problem in cooler climate vineyards in northern Europe.
Colour
Sparkling
Origin
England
Region
Sparkling
ABV
12.50%
Drink From
2020
Drink To
2028
Everyday drinking, Special occasion, Fine Wine