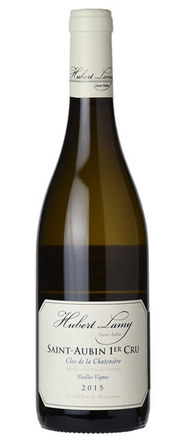 Stock Description
En Primeur - In Bond per 6x75cl
Vintage Description
Neal Martin; Olivier Lamy was on hand to guide me through his 2018s from his cellar in Saint-Aubin. 'There was 25% more rain in spring but 25% less in summer," he explained. "Yet there was more sunlight hours, 1,550 instead of the average 1,200. The reds were more impacted by the sun as the skins suffered more grillé. I started picking on 22 August. Some vineyards were picked on five different dates and some of the fruit picked earliest were too ripe and some picked at the end were too green! I finished the picking on 12 September.'
Tasting Notes
Neal Martin 90/100
The 2018 Saint-Aubin Clos de la Chatenière 1er Cru has an earthy/loamy nose, tilled soils and white flowers, background aromas of shucked oyster shell. It remains very closed on the palate, though there is fine acidity and it feels concentrated and phenolic on the gooseberry and kiwi fruit-themed finish.
Vineyard Information
Olivier Lamy's wines have a crystalline quality that really makes them stand apart. The impeccable winemaking and perfect balance of ripe acidity means these wines age very well. The domaine's particularity is the high density at which they plant, including two plots of 30,000 vines per hectare, three times more than normal.
Colour
White
Origin
France
Region
Burgundy White
ABV
13.00%
Drink From
2021
Drink To
2030
Special occasion, Fine Wine, Wine for the Cellar