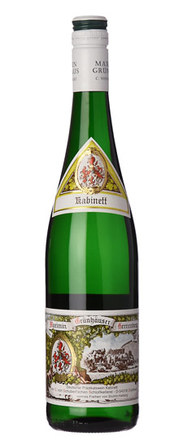 Vintage Description
Joel B. Payne, Vinous.com
...the kabinett, spatlese, auslese and upwards were exemplary (in 2010) and rate among the best produced in Germany in the vintage. Happily, Dr. Carl von Schubert and his winemaker Stefan Kraml have put this estate back on the right track without sacrificing its uniquely yeasty, reductive style so that this inimitable label is again a sure bet for those seeking individual wines of true character.
Tasting Notes
Joel B. Payne 92/100
White peach, hyacinth and clover on the nose. Subtly sweet papaya fruit and a hint of lime on the palate, with a creamy quality held in check by crisp minerality. Seductive riesling with a penetratingly spicy finish. Vinous.com January 2012
Vineyard Information
Located on steep, south-facing slopes two kilometres from where the river Ruwer meets the Mosel, the estate of Maximin Grünhaus has a history of viticulture that dates back to Roman times. It takes its name from the Abbey of Saint Maximin, a Benedictine monastery which owned the land from the 7th to the 18th century. Passing into French administration under Napoleon and then eventually to the von Schubert family in the late 19th century, the estate is now overseen by sixth-generation family member Maximin Von Schubert, who took over from his father Carl Von Schubert in 2014.

A Riesling specialist, the property is divided into three separate, but contiguous vineyards, each with their distinct microclimate, gradients and soils: the Abtsberg, the Herrenberg, and the Bruderberg. Winemaker Stefan Kraml, who has been with the estate since 2004, focuses on expressing the character of the Riesling from each plot.

The Abtsberg is 14 hectares of blue Devonian slate subsoil on a 70% gradient. It is widely considered as the most renowned of the three sites, with the best parcels classified as 'Grosse Lage'. Historically, Abtsberg's wines were destined for its namesake, the abbot ('abt' in German) of the monastery. The Spätlese displays a relatively round body and ripe apricot and peach notes with noticeable but balanced sweetness. Weingut Maximin Grünhaus produces some of the longest-lived Rieslings in the region.
Colour
White
Origin
Germany
Region
Germany White
ABV
8.50%
Drink From
2017
Drink To
2028
Special occasion, Fine Wine